Back to Dental Wellness Articles
How to Have an Easier Dental Appointment
Make your next visit a breeze.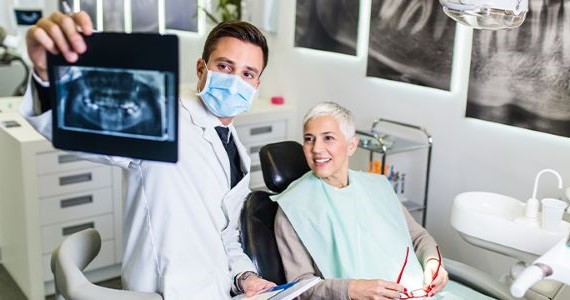 Don't put it off
It's recommended most people visit the dentist at least twice a year. Frequent visits allow your dentist to spot any problems before they worsen and become harder and more expensive to treat. Many oral health conditions like tooth decay are invisible and don't cause pain until it's already in an advanced stage.
During a routine dental visit, a hygienist will clean your teeth, discuss your oral care habits and answer your questions. Afterward, a dentist will examine your teeth, gums and neck and perform an X-ray, if needed. Dental visits more or less follow this pattern, but there are some things you can do to help you get more out of it and minimize any hiccups.
Come prepared with questions
Nothing is worse than remembering to ask your dentist a question right after you leave. That's why it pays to come prepared. Between your visits, keep a log in a notebook or your phone with any questions, concerns or observations you notice. Doing this not only benefits you, but it benefits your dentist to know what's going on in your mouth too. They'll appreciate your proactivity.
Bring your proof of insurance
Bring your dental member ID card, if you have dental insurance, to receive coverage for your services. If you have the BCBS FEP Dental app, you can access a digital version of your member ID card right on your phone. If you don't, download it free on the App Store® or Google Play™ so you'll have it when you need it.
You might also be wondering about your medical plan-it may offer some benefits related to dental care. Bring your medical member ID card too. All you need to do is show both member ID cards to your dentist. Then, they'll file your medical coverage as primary so you can be sure you're using those benefits and they'll file your dental coverage as secondary. The claim will then be sent to your dental plan provider.
Get your dentist up to speed
Your health is a complex picture. Many unrelated conditions can affect your oral health too, like diabetes and heart disease. That's why you should let your dentist know about your medical history and any prescriptions and supplements you take. If it's not your first visit, let them know if anything has changed since you last came in. The clearer picture your dentist has about your health, the better care they can provide.
Make a plan of action
At the end of your visit, talk with your dentist about what you should be doing at home. Visits to the dentist aren't enough to have a healthy mouth, at-home care is just as necessary. Having a plan of action will allow you to know exactly what you need to do to improve your oral health. In turn, that'll make future dental visits go even smoother.
Apple, the Apple logo, iPad and iPhone are trademarks of Apple Inc., registered in the U.S. and other countries. App Store is a service mark of Apple Inc., registered in the U.S. and other countries.
Google Play and the Google Play logo are trademarks of Google LLC.
Sources: www.webmd.com/oral-health/features/dental-visit my.clevelandclinic.org/health/treatments/11187-dental-check-up