Back to Dental Wellness Articles
Electric Toothbrushes: Are They Really Better?
The answer might surprise you.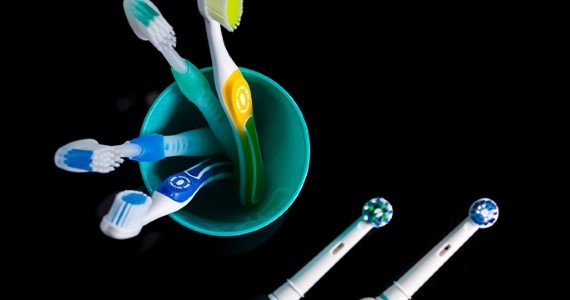 There are more options for at-home oral care than ever before. You find it on TV, the pharmacy, in the mall: toothbrushes with charcoal, water flossers, whitening strips - the list goes on. But one product has been around for decades: electric toothbrushes.
There are tons of models out there, each with their own array of features and gadgets. Despite being around for so long, many people still rely on manual toothbrushes. So, which one is better? Let's go over the pros and cons.
Cost
There's not much comparison when you look at the prices of manual vs. electric toothbrushes. Electric toothbrushes can be found across all price points, but even the low-cost options still cost a lot more than your average manual toothbrush. Also, both types need to be replaced regularly to stay effective. However, electric toothbrushes do come with disposable heads so you don't need to replace the whole unit.
Style
Electric toothbrushes can be a worthwhile investment for people who enjoy the added movement. They can be especially beneficial for people who struggle to brush their teeth, like those suffering from arthritis or limited mobility. Other people may not like the vibration in their mouth or the need to charge electric toothbrushes.
Safety
If a toothbrush has an American Dental Association (ADA) seal of approval, it's been tested and is safe to use in your mouth. But everyone's oral health is different and some toothbrushes can be better suited to your needs, depending on your situation. For example, if you brush too hard, the added motion of electric toothbrushes might help you be more gentle and avoid wearing down your enamel.
Effectiveness
There has been a lot of research to determine which type of toothbrush is better at busting plaque. Unfortunately, there hasn't been a definitive answer about which is more effective. There have been some studies that show electric toothbrushes that rotate back and forth may be more effective compared to normal toothbrushes.
The bottom line
There's no clear winner. The best toothbrush is going to be the one that's most comfortable and enjoyable for you to use. You'll find a lot of variation between different brands of toothbrushes. Since it's recommended you replace your toothbrush every three to four months, you have plenty of opportunities to try out others to get a feel for what works for you.
Looking for ways to save on oral care? Blue365® has deals on oral products, plus many other national health and wellness brands. It's free to sign up and there's no limit on how many deals you can redeem. Select Blue365® Deals to check what's available.
Sources: www.medicinenet.com/choosing_a_toothbrush/article.htm#choosing_a_toothbrush_general_tips