Back to Dental Wellness Articles
Lip Care 101
Kiss dried, cracked lips goodbye with these tips.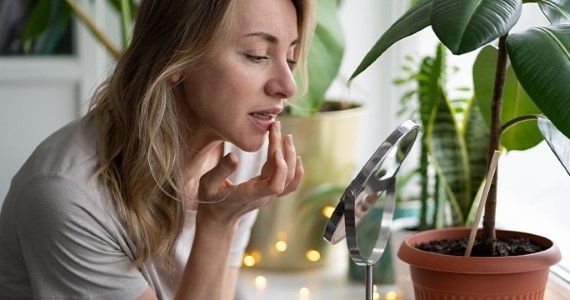 We put lots of thought and care into our skincare routines. So why not our lips? The truth is, maintaining healthy lips goes beyond applying chapstick every time they start to peel. In fact, incorporating these simple steps can help prevent the unpleasant burning and chapping that plagues so many of us.
So, here are your tips for healthy lips:
Before bed:
Your pre-bed lip routine is crucial to maintaining healthy lips. Here's what to do:
Remove makeup
Apply lip balm
Then, each morning, wipe off any dried or dead skin with a moist cloth. Doing this also promotes circulation.
During the day:
Stay hydrated. Drinking plenty of water goes a long way to help keep your lips moisturized.
Use SPF-rated lip balm. Your lips are constantly exposed to the sun and can easily burn. Applying SPF-15 (or above) lip balm every day can do wonders for your lip health.
Apply lip balm as much as you can during the day-especially if you've been outside.
More healthy lip tips:
Did you know lip balm and chapstick expire? Check the dates and toss any product past its best-by date.
Aloe vera is a great natural soother. Apply it directly to your lips to help them look and feel their best.
Look for lip balm with shea butter, cocoa butter and coconut oil. These ingredients protect your lips against heat and harsh air.
Try avoiding the following ingredients that can dry your lips:
Camphor
Menthol
Eucalyptus
Salicylic acid
Flavorings, like cinnamon, citrus and mint
Shop for lipstick with natural dyes. Unnatural chemicals can cause your lips to dry out and accelerate aging.
Making chronically chapped lips a thing of the past starts with a little knowledge and a few tweaks to your daily routine. Using these tips will go a long way to help maintain pink, healthy lips and prevent premature aging. Here's another routine you'll love: check Blue365® for exclusive discounts on your favorite brands. The best part? There's no limit to the amount of discounts you can redeem.
Sources: www.healthline.com/health/how-to-make-lips-pink#overview www.webmd.com/beauty/features/beautiful-lips