Back to Dental Wellness Articles
Make Mouthwash Matter
Check why adding this rinse to your daily dental care routine has many benefits.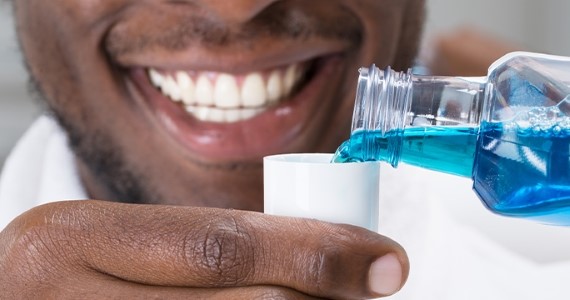 We know brushing and flossing are essential parts of our at-home dental care. But what about mouthwash? Is it necessary? What does it actually do besides freshen your breath? We can help answer these questions.
What is mouthwash?
Mouthwash is a liquid used to rinse your teeth, gums and mouth. It normally has an antiseptic to kill harmful bacteria inside your mouth. When taken regularly, it can help reduce gum disease, tooth decay, tartar and plaque buildup.
What's in it?
Just like toothpaste, mouthwash comes in many different varieties and flavors. Most types contain fluoride. This helps reduce tooth decay and prevent cavities.
Most also have bacteria-killing antiseptic in the form of either alcohol, menthol or eucalyptol. This is why you might experience a tingling or slight burning sensation when using it. Bacteria in your mouth can cause bad breath, plaque and gingivitis. The antiseptic can get into the tiny crevices in your mouth and between your teeth and gums to kill any bacteria.
Keep in mind that you should not ingest high amounts of fluoride or alcohol, so do not swallow mouthwash. Alcohol-based versions are also not recommended for children under 6.
Some types of mouthwash might also have astringent salt or additional odor neutralizers to cover up or fight bad breath. And others, those that contain peroxide, can help whiten your teeth.
When's the best time to use mouthwash?
Experts say it actually doesn't matter if you rinse with mouthwash before or after brushing and flossing-however, most people do it afterward.
Most mouthwash brands recommend you only use between 3 and 5 tablespoons, so check the label. You should swish or gargle for at least 30 to 60 seconds. And always spit it out when you're done.
The bottom line
While mouthwash should not be a replacement for daily brushing and flossing, when added to your dental care routine, it has many benefits.
Want to save on dental care products? Blue365® has deals on whitening kits, whitening rinses and toothpaste, even electric toothbrushes. It's free to sign up and there's no limit to how many deals you can redeem. Check out Blue 365 Deals to find what's available.
Sources: www.healthline.com/health/how-to-use-mouthwash www.webmd.com/oral-health/dental-health-dental-care-products#2-7 www.webmd.com/oral-health/features/mouth-rinse-rules