Back to Dental Wellness Articles
Oral Health and Pregnancy
Good habits can put your little one's oral health on the right track.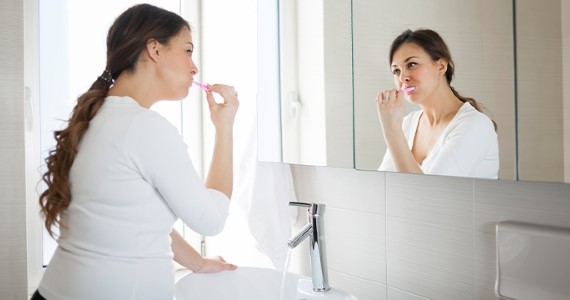 More and more, researchers are discovering just how much of a connection a pregnant parent has with their baby. It turns out that your oral health is something else that can be passed on to your baby.
For example, excessive bacteria growth in a pregnant parent's mouth can enter their bloodstream through the gums and trigger the production of chemicals that may induce premature labor. Also, evidence suggests that a parent with decay-causing bacteria in their mouth can pass the bacteria to their newborn.
Fear not, with some simple routine habits we'll discuss below, you can help ensure you take care of your little one's oral health.
Don't ignore your dental visits
Schedule a dental appointment if your last visit took place more than six months ago or if you have other concerns. Don't forget to talk to your dentist about your medical history, including your pregnancy and expected due date.
When you're pregnant, your body changes and you become more at-risk for certain health issues-dental conditions are no exception. Those who are pregnant become more at risk for gingivitis, dental decay, erosion and noncancerous pregnancy tumors. Routine visits to the dentist can help you identify any emerging problems and start treating them early.
If you need to find a dentist or other oral health specialist, be sure to look for one that's in the BCBS FEP Dental network. When you visit an in-network provider, you typically receive more coverage and pay less out of pocket compared to visiting a provider who is not in our network. You can use our Find a Provider tool to search for in-network providers in your area.
Keep up your habits at home
Going to the dentist alone isn't enough to ensure you and your baby have good oral health. In fact, the majority of healthy oral habits take place at home.
Brush and floss two to three times a day and rinse your mouth with an alcohol-free fluoride mouthwash after you're done brushing. You should replace your toothbrush every 3-4 months as the bristles wear down with each use.
Acid reflux or vomiting are common during pregnancy. If you vomit, don't brush your teeth. Instead, the American Dental Association recommends rinsing your mouth with a diluted solution of 1 tsp. of baking soda in a cup of water to neutralize the acid.
Always wear your seatbelt when traveling in a vehicle. The seatbelt should be positioned under your belly, low and snug on your hip bones. Wearing a seatbelt is the best way to prevent injuries for you and your baby if an accident were to occur.
Pay attention to what's on your plate
What you eat also has a direct impact on your baby's teeth, which begin to develop during the second trimester. It's important to eat a balanced diet that includes plenty of proteins, fruits, vegetables, whole grains and healthy fats and oils.
If you can't resist snacking, choose foods with no added sugar. Drink water or milk instead of juice, flavored drinks or soda.
Gum or mints with xylitol, a type of natural sweetener, can also be good to have. Xylitol has been shown to help to maintain a neutral pH level in the mouth, reduce acid-producing bacteria and prevent cavities.
Sources: www.healthychildren.org/English/ages-stages/prenatal/Pages/Brushing-for-Two-How-Your-Oral-Health-Effects-Baby.aspx