Back to Dental Wellness Articles
How to Prevent and Calm Your Child's Dental Anxiety
Help make every dentist appointment a positive experience.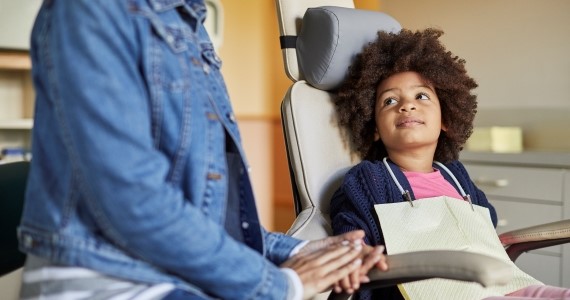 Prevent Your Child's Dental Fear
Going to the dentist for the first time can be a frightening experience for your child. The dental chair is a new environment with tools and instruments scattered throughout the room. There are strangers looking inside their mouth and rambling words your child may not yet understand. Easing your child's anxiety isn't always easy, but there's good news! The following tips and tricks to ease your child's dental fear can be used:
Take your child to the dentist with their siblings for observation. If you do not have other children and your child is well behaved, ask to go along with a friend during their cleaning appointment.
Pull out your toothbrushes and play dentist and patient with your child. Act out what will happen by having the "patient" open their mouth, count the teeth, and switch roles.
Watch videos and read books about going to the dentist.
Download (charges may apply) teeth related interactive games on an electronic device and play it with your child. It helps the child visualize cavity causing bacteria or "sugar bugs".
Sometimes a child may show anxiety during a visit to the dentist but, in actuality, it is because they have missed a nap, are hungry, or may be over-stimulated. The best time to schedule an appointment is when your child is the calmest and cooperative: after a nap and meal. Do not forget to offer plenty of praises after your child's dental appointment.
Find the Right Dentist
Your child's comfort comes first; select an office that will make your child's dental experience fun, stress-free, and effective. Make dental care a part of your child's routine so they will be comfortable with the environment, staff, and know what to expect.
Calm Your Child's Dental Fear
If your child is older and has developed dental fear due to a previous experience, here are some ideas to help calm the child?s anxiety the day of their appointment:
Allow your child to express their anxiety and listen. Provide positive feedback, be open, and honest to help the child understand what to expect at their visit.
Let your child bring a toy, blanket, or an item that comforts them.
Be present during the appointment. Some dental offices do not allow parents to go to the operatory with their children because kids do better without their parents. Discuss your child's anxiety with the staff.
Seek the services of a pediatric dental specialist (pedodontists).
If your child has had a traumatic experience that is teeth related or with a dentist in the past, address this with the new office. They may offer different methods to help ease your child's dental anxiety.