Back to Dental Wellness Articles
How to Have a Productive Dental Visit
These tips can help you get more out of your time with the dentist.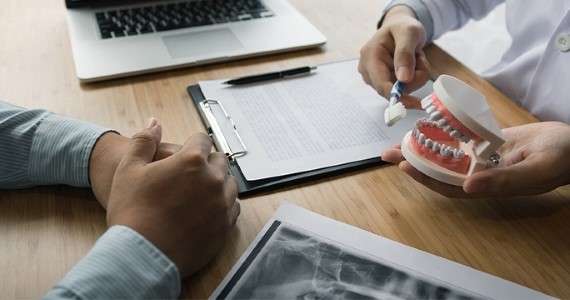 Did you know the average dental visit is about an hour? While that may sound like a long time, there's a lot that happens during it and it can pass quickly. In order to have the most productive visit, it's a good idea to come prepared in order to get the right care.
Whether you have a new dentist, need to find a new dentist or have had the same one for a decade, here are some tips to help you make the most out of your appointments.
1. Have your ID cards ready when you get there.
When you arrive at the dental office, provide them with copies of BOTH your medical and dental insurance ID cards. The dental claim will be sent to your medical insurance for consideration first to determine if there are available benefits. Claims will then be considered as secondary coverage under your dental plan.
2. Share your top concerns first
Your dentist might get interrupted during your visit, so bring up your concerns first and explain what's on your mind. Be sure to ask questions to help you understand your dental diagnosis and any treatment options.
3. When sharing symptoms, focus on the 'when', 'what', 'where' and 'why'
These details can be just as useful as any test results. Explain when you first noticed the problem, when it seems to occur, when was the last time it happened and when it has changed. Describe what makes the problem better or worse along with your pain level on a scale of 1 to 10. Then say where in your mouth or jaws you're feeling the pain or symptoms and if it's spread to more than one place. Finally, tell why these symptoms are worrying you.
4. Share your medical and dental history
If you have a new dentist, the most important visit is the first one. Use this appointment to introduce yourself and communicate your medical and dental history. Before you make an appointment, request your dental records from your previous dentist. These typically include (but may not be limited to) your most recent panoramic and bitewing X-rays or intraoral comprehensive series of X-rays.
Your medical and dental history is important information the dentist needs to understand your health and provide you with the right care. Be thorough in sharing this information, including any surgeries you've had, health conditions, current medications and allergies.
Don't forget to mention childhood illnesses and surgeries as well as family medical histories. These can help your dentist understand which conditions and diseases you?re most at risk for. It's also beneficial to include what you do for work and leisure because it could offer important information about your oral health.
5. Don't skip preventive visits
Even if you're healthy and have good oral health, preventive dental care is essential. There is a strong connection between one's oral health and overall health. Some medical conditions may affect your oral health. Likewise, some oral conditions can affect your medical health.
During preventive visits, a dentist or hygienist will assess for oral cancer, look for abnormalities in your gum tissues and tooth health and remove plaque, tartar and stains. These are all important parts of your oral health care.
Based on a review of your medical and dental history as well as clinical findings, your dentist may recommend you implement additional home care or professional visits. In some instances, a consultation with your physician may be recommended.
6. Write down any important information
An easy way to remember what your dentist told you? Write it down. Make it your goal to not leave the office without having your diagnosis and comprehensive treatment plan. You can ask the office to provide you with a copy of the diagnosis in easy terms for better understanding of what's happening. Also, make sure to set up any future appointments for additional tests or further evaluations that may be needed.
7. Discuss treatment options
If your dentist determines you need treatment, take the opportunity to discuss your choices by asking questions. Doing so will not only help in understanding your dental diagnosis, but also any available treatment options. The options you choose can significantly impact your out-of-pocket expenses.
8. Request a pre-treatment estimate for work that needs to be done
The dentist may develop a customized treatment plan for you based on the options you have discussed. To avoid costly surprises, request that a pre-treatment estimate be submitted to BCBS FEP Dental.
When multiple visits are expected, we recommend that your dentist submit an estimate of the comprehensive services rather than individually at each stage of treatment. Although pre-treatment estimates are not required, they are highly recommended for major and extensive services.
Keep in mind that a pre-treatment estimate is not a guarantee of payment, though. It's based on your current eligibility and contract benefits in effect at the time of the completed service.
9. Pre-treatment estimates vs. prior authorizations
While pre-treatment estimates are not required, some dental services may require prior authorization. Like pre-treatment estimates, prior authorization is submitted prior to work being completed.
However, prior authorization includes a step where a licensed dental professional looks at the requested treatment and the patient's dental records. This is to determine if the proposed services would be considered medically necessary or otherwise meet the BCBS FEP Dental criteria in order for the service to be paid.
10. Consent for treatment
As you discuss your treatment for the issues your dentist may have observed, ask about the potential benefits, risks or alternatives. Have a conversation with your dentist about the treatment options and be comfortable with your decisions.
Based upon the problem(s) identified and type of treatment chosen, your consent to treatment may be implied or verbal. However, you may also be asked to sign a consent form when agreeing to a complex treatment plan.
The bottom line
Spending a little time to prepare for your visits with the dentist goes a long way to help maintain good oral health. You might be surprised how much you and your dentist can cover in an appointment.
If you have any questions or general inquiries about your dental coverage, visit our contact page.