Back to Dental Wellness Articles
Questions to Ask at Your Dental Visit
Do not be shy about asking your dental provider questions!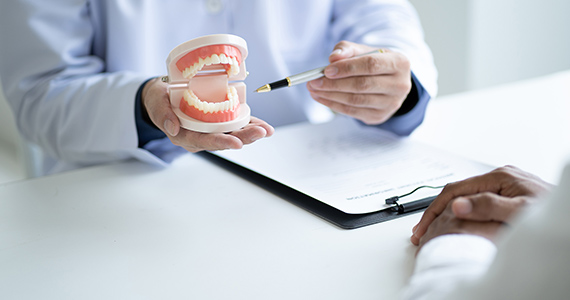 Questions for a Regular Checkup
The ADA (American Dental Association) recommends patients get their teeth cleaned at least once a year with a dentist or hygienist. Professional hand tools and electronic tools will be used to remove tartar, plaque, and bacteria build-up around the teeth and hard to reach areas. During the appointment, a few tasks will be completed:
X-rays. The hygienist may take several x-rays to detect or monitor cavities and the bone level between the teeth.
Measure periodontal pockets. A probe will be used to measure periodontal pocket depth and assess bone loss. A number above 3 may mean some level of gum disease is present.
Record existing restorations. If you are a new patient to the office or had dental work done elsewhere, your existing fillings, crowns, sealants, or any other dental work completed in the mouth will be recorded.
Scaling. Hand tools or an electronic scaler will be used to remove plaque, tartar (harden plaque), or debris.
Prophylaxis (prophy) polish. Once scaling has been completed, your teeth will be polished with pumice and a slow speed rotary.
Exam. The dentist will do an exam before or after a prophylaxis and address their findings, which might include cavities, gum disease, bone loss, fracture etc.
Your dentist or hygienist will ask if you have any questions at the end of your cleaning appointment. If you're unsure of what to ask, the questions below may be helpful:
Do I have gum disease? Your dental healthcare professional will be able to tell you whether you have gum disease based on the pocket depth, condition of your gum: tender, swollen, bleeding, or slightly red.
Do I need a fluoride rinse? Discuss your access to fluoride whether it is through toothpaste, water, or maybe you have no access to fluoride due to well water and using non-fluoride toothpaste. Your dental provider may not know this detail to make recommendations.
Is my oral hygiene routine effective? Some dental professionals may assume you already know or have been shown how to brush and floss your teeth. Show your dental provider how you brush and floss, they may have tips for improvement.
Why are my teeth sensitive? Sensitivity can be caused by several factors: gum recession, whitening products, tooth decay, grinding, or simply aging. A dental provider will be able to narrow down the cause and recommend a treatment option.
Why is this tooth giving me pain? Toothaches can be caused by infection, hairline fracture, cavities, or trauma. A dental provider will be able to take a periapical x-ray and determine cause of a toothache.
Questions for Other Appointments
"I don't have any questions; I'll give the office a call if I have any," Does this response sound familiar? Sometimes you don't know what you don't know. The following questions may be used as a guide for your next dental visit:
Appointment for Fillings (White and Silver)
Can I eat after the appointment? If so, what kind of food should I avoid?
What should I do if the filling falls out after hours?
How long should this filling last?
Will I need a crown for this tooth later?
Appointment for Root Canal Treatment
Do I need to come back for a second appointment?
How should I care for this tooth going forward?
Do I need to worry about the tooth being infected?
What's the likelihood of this tooth needing an extraction?
Appointment for Major Services or Prosthetics: Bridge, Crown, Denture, or Partial
Is there bone loss?
Do I need to use a special toothbrush or floss?
Do I need to come back for a second appointment?
What should I do if the new: crown, bridge, denture, or partial breaks?
How often will the insurance cover this service?
Appointment for Orthodontics
Should I expect any type of soreness?
Can I take pain medication for the soreness? If so, what kind?
Do I need to use a fluoride rinse?
Do I need a mouth guard over my braces for sports?
Do I need to have any teeth removed prior to starting braces?
Do I have periodontal disease and will it impact having braces?
Can I whiten my teeth while under orthodontic treatment?
Appointment for Extraction
Can I eat or drink after an extraction?
What are symptoms of a dry socket?
When should I be concern about the bleeding?
Should I expect any pain or soreness around the extraction site?
Going to the appointment prepared with knowledge of the treatment being provided and a list of questions can help save you time and may even save you from a toothache or other issues down the road.
Ask About Pre-treatment Estimate
Not all dental offices will offer to submit a pre-treatment estimate to your dental insurance. A pre-treatment estimate gives you an idea of out-of-pocket costs, insurance benefit and coverage, and if frequency has been met for the treatment planned. Be sure to ask about a pre- treatment estimate to help you financially prepare for dental services.