Back to Oral Health & Wellness Articles
Retiring from the Uniformed Services: What You Need to Know About Dental Coverage
Here are some tips to have a healthy smile in retirement.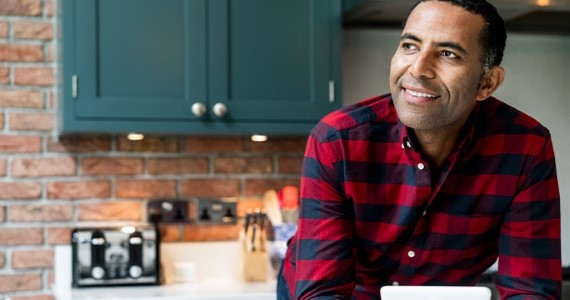 A new beginning
Retiring from service is an exciting time in your life. After years of honorable service, you'll have the freedom to follow your passion, whether that's developing a hobby, traveling, going back to school or starting a second career.
But transitioning from the uniformed services is a big change that affects many different aspects of your life. One example is choosing your dental plan. When you're in the uniformed services, your dental coverage isn't something you usually need to worry about since it's covered under TRICARE. Having dental coverage as a civilian is crucial for maintaining a healthy smile and overall well-being.
Get a retirement physical
You'll receive a retirement physical at least six months before your terminal leave or retirement. This will make sure you're healthy and receive any necessary treatment before going into civilian life. It's important you take advantage of your TRICARE benefits while you're still in active duty and get any dental care you may need, including X-rays, cleanings and fillings. Be sure to make a few copies of your dental records so you have them easily accessible.
Create a plan
Start thinking about your retirement plan at least 90 days before retiring. Here are some things to keep in mind:
Know your individual dental options
Discuss your plans with your significant other
Take inventory of your financial assets and needs
Talk to a financial planner
Evaluate you and your family's current and future health needs
You'll also want to take a look at your health needs. What's important to you when seeking dental care? Plans offer different levels of coverage for different needs. Finding the right one for you and your family will help ensure you get the benefits you need within your budget.
Take a look at your options
The Federal Employees Dental and Vision Insurance Program (FEDVIP) is a supplemental dental and vision benefits program available to federal employees and retirees. FEDVIP is offered by the Office of Personnel Management, or OPM. In 2016, Congress expanded eligibility for FEDVIP in order to provide more extensive dental and vision benefits to TRICARE beneficiaries.
Because of this, uniformed service members, spouses and dependents may enroll between 31 days prior to military retirement date and 60 days after. If you don't enroll in that window, you'll need to do so during the annual Open Season period, which is typically the second Monday of November through the second Monday of December each year.
FEDVIP offers 12 different carriers to choose from so you can find the right coverage for you. No matter which one you choose, you can have peace of mind knowing that all FEDVIP dental plans provide comprehensive dental benefits, including in-network preventive services covered at 100% and no in-network deductibles.* You should ask yourself about what you're looking for in a plan before you make a decision, like:
How important is your network size?
Do you need orthodontic coverage?
Do any dependents need to be covered under your plan?
Are you planning on receiving major dental care like a root canal?
What are you looking to pay for a premium?
To learn more about the FEDVIP dental plans available or to enroll in a plan, you can visit BENEFEDS.com or call 877-888-FEDS.
Planning care in retirement
In service, you might have had one exam and cleaning per year scheduled on your behalf. In retirement, you'll need to schedule your own dental care. It's recommended you get a dental exam and cleaning within your first six months of retirement.
Your dentist will perform a comprehensive exam to get an idea of your oral health, check your dental records and ask questions about your oral habits. After your first exam in retirement, talk with your dentist about how often you should be getting care and what services are needed, if any. Understanding how often you should get care can help you stay in good oral health.
*Plan restrictions and limitations apply. Refer to the individual plan brochures for the official statement of benefits.