Back to Dental Wellness Articles
How to Care for Your Infant's Oral Health
Good oral habits start even before they have teeth.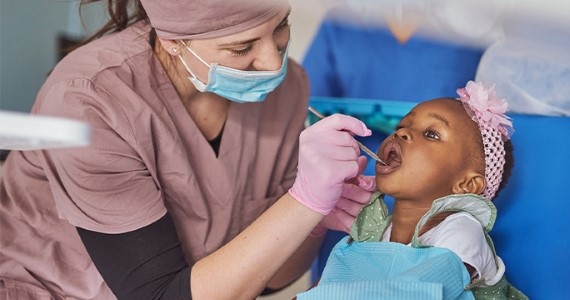 It's never too early to start caring for your infant's oral health. Children can develop cavities as soon as their teeth begin to grow in, so it's important to start them off with good oral health habits. In fact, good oral health habits start before children are even born.
We'll cover some useful tips and common conditions that can help you take care of your child's mouth so they grow up with a healthy and bright smile.
Tips to care for your infant's oral health
Always wipe their gums gently with a wet cloth after feeding
Do not put them to bed with a bottle of formula, juice or milk
Never dip a pacifier in anything sweet
Use a toothbrush to gently brush any teeth once they erupt
Start flossing their teeth twice daily once they have side-by-side teeth
Your child's first dental visit
It's recommended you schedule a dental visit within six months of your child's first tooth appearing, but no later than their first birthday. Even with just one tooth coming in, a dental visit will give you and your child's dentist a lot of insight into their oral health.
A dentist will look at the development of your child's teeth and jaw, look for any cavities, show you how to clean your child's teeth and answer any questions. We recommend you do some research to find the right dentist to care for your little one. You can reach out to general dentists and ask if they're comfortable caring for infants or search specifically for a pediatric dentist.
You can use the Find a Provider tool to search for dentists in the Blue Cross Blue Shield FEP Dental network by location and specialty. You can also search for a provider by calling Customer Service toll-free at 1-855-504-BLUE (2583), weekdays 8 a.m. to 8 p.m., Eastern Time.
Teething
If your child has tooth pain, examine inside their mouth to check if it's caused by teething. Teething, or tooth eruption, is a natural process where your baby's teeth begin to come through their gums, usually starting between four to seven months of age.
During teething, your child's gums may become swollen and/or tender, which can cause discomfort. You can help reduce their pain by gently rubbing their gums with a clean finger or giving them a cold, clean teether toy or washcloth to chew on.
While teething is something that can be managed at home, you should call your infant's pediatrician if the pain persists or if they experience a fever, rash or diarrhea.
Get familiar with your coverage
Understanding your benefits can help you cut down on dental costs and make sure your child gets the dental care they need. You can access plan brochures on our site that make it easy to check your plan's benefits. Plus, don't forget to browse bcbsfepdental.com and check all of the helpful resources that are available to you, including the Dental Care Pricing Tool and Find an Event Tool.
Sources: www.healthychildren.org/English/ages-stages/baby/teething-tooth-care/Pages/Teething-Pain.aspx